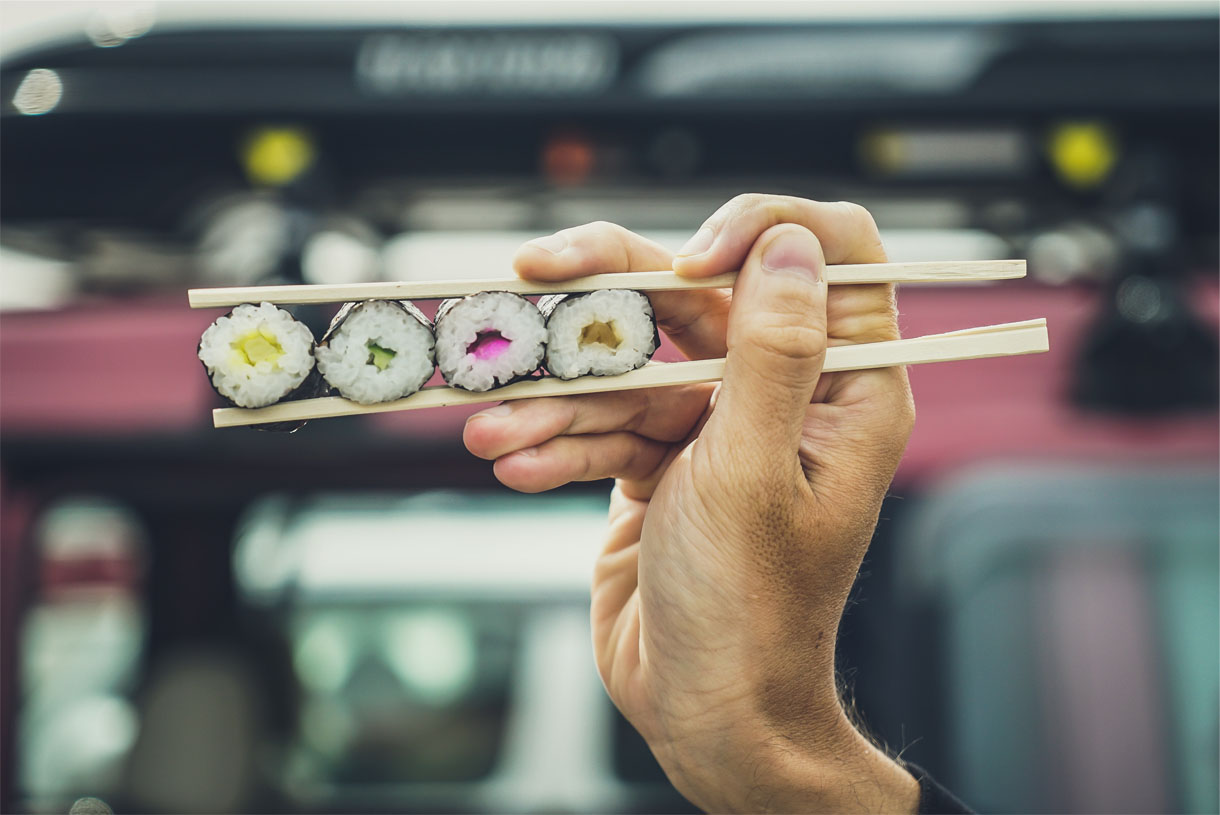 What is sushi?
Sushi is one of Japan's most famous yet misunderstood contributions to world food culture, available everywhere from the corner shop to high-class restaurants. It is also entering a new era thanks to the growing interest among consumers looking for a more plant-based diet. Let us take a look at sushi and show you how to make your own vegan rolls at home with our simple recipe, using ingredients available from Sing Kee Foods.
Often confused with sashimi (which typically consists of thinly sliced fresh raw fish on top of a small serving of rice), sushi refers to the vinegared medium-grain white rice to which chosen ingredients are added, before being rolled in a sheet of roasted seaweed and cut into pieces. While popular recipes do sometimes include raw fish, many types of sushi are vegetarian or even vegan. It is often served with wasabi paste, pickled ginger and soy sauce.
Vegan filling ideas.
You can start with the more traditional recipes, using vegan alternatives, such as tofu, where appropriate. Crunchy vegetables, especially if pickled (check out our kimchi recipe in a previous blog), will work well with the soft resistance of the rice, as well as add vibrant natural colours. But you can have fun creating your own fusion recipes, because there are no rules about what you can put into your rolls. Oriental mushrooms, due to their varied shapes and textures, are especially versatile. We're particular fans of diced oyster mushrooms marinated in vegan mayo and sriracha. Better still, the seaweed wrapping is incredibly nutritious, as it is high in iodine with the added benefit of vitamin A, magnesium and potassium.
How to make vegan sushi rolls.
What you will need:
Kikkoman Seasoning for Sushi Rice
Haruka Japanese Style Rice for Sushi
Yutaka Bamboo Sushi Rolling Mat
Yutaka Sushi Nori (roasted seaweed sheets)
S&B Premium Wasabi
Yutaka Sushi Ginger
Kikkoman Sushi & Sashimi Soy Sauce
How to prepare:
Time: 30 minutes (plus rice preparation time)
Serving: 8 pieces per seaweed sheet
Cook the rice then mix with the seasoning according to the manufacturer's instructions using a paddle soon. Then allow the rice to cool to room temperature.
Lay the bamboo rolling mat out flat and place one sheet of roasted seaweed on top. Next, spread some of the seasoned rice evenly over the seaweed sheet. Lengthways, across the centre of the rice, adding your preferred ingredients. Bear in mind that you will need to be able to roll the sheet later when deciding on the thickness of the rice layer and the amount of ingredients to use.
Carefully lift up the nearest edge of the bamboo mat and roll firmly until the sides stick together.
Cut each roll into 8 equal pieces crossways and place on a serving platter, rice side up.
Mix a squirt of wasabi paste, a pinch of sushi ginger and the soy sauce into a small dipping bowl and enjoy!
Join the vegan revolution with us With more than 20 years of experience as one of the UK's largest Oriental supermarket networks, we, at Sing Kee Foods, sell everything you need to make this and many other vegan dishes, inspired by the Far East. Check out our website and Facebook and YouTube channels regularly for more of our favourite recipe ideas.