Veganism is more than a fad, it's a food revolution! But many of our customers tell us that much of what is available on supermarket shelves is both processed and expensive. Here, at Sing Kee Foods, we are committed to supporting customers who are looking to embrace a more plant-based diet and create delicious food using affordable ingredients. Check out our recipe below for our vegan take on Chinese burgers (bao buns), perfect for summer parties.
What you need
Most of the ingredients are available from Sing Kee Foods – check out this link to place them all in your cart. Alternatively, you can browse them individually at the bottom of this page.
How to cook
Cooking time: 30 minutes
Servings: 6-10 x filled bao buns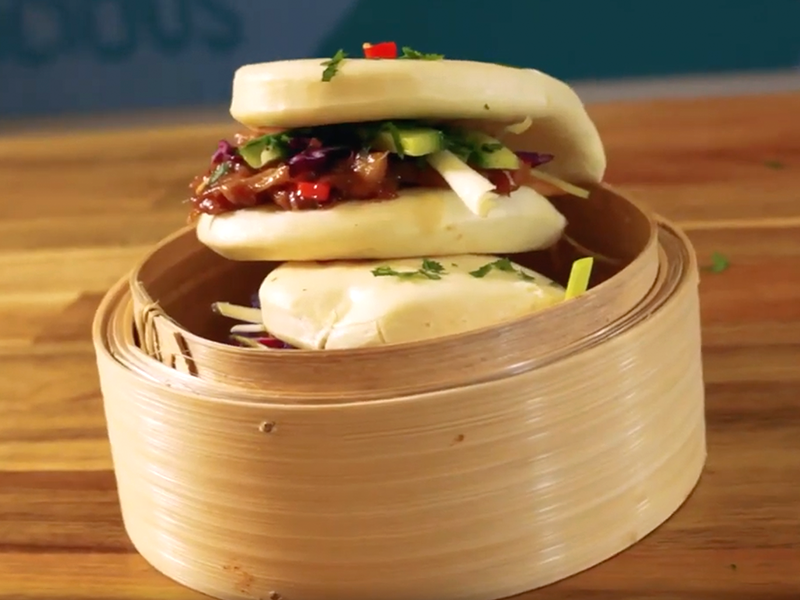 Prepare pulled jackfruit, for example, by shredding drained and rinsed Chef's Choice Young Green Jackfruit in Brine, and set aside.
Add two tablespoons of cooking oil to a frying pan and heat at a medium setting on the hob.
Then add the following ingredients in order to the frying pan and stir: 1 x spring onion, sliced crosswise; 2 x tablespoons each of minced ginger and minced garlic; 1 x tablespoon of rice wine vinegar, 3 x teaspoons of soy sauce; 1 x teaspoon of five spice; 1 x tablespoon of maple syrup; 2 x tablespoons of sweet hoisin sauce.
Next, add the pulled jackfruit to the frying and coat thoroughly in the sauce. Mix in two finely sliced hot chillies. Then set aside but keep warm.
Slice the other two spring onions and the cucumber lengthways. Then shred half a red cabbage. Take the peanuts and chop/crush them finely. Roughly chop the coriander.
Microwave the bao buns for 30 seconds. Then open slightly and fill with the coated pulled jackfruit, along with the sliced spring onion and cucumber, shredded red cabbage, and chopped/crushed peanuts.
Garnish with a sprinkling of finely chopped red chillies and coriander, and enjoy.
Keep an eye on our YouTube channel for future video recipes.
Amazing food ideas all in one place
The Far East offers an amazing range of ingredients, many of which are vegan-friendly. As one of the UK's largest Oriental supermarket networks, Sing Kee Foods has more than 20 years' experience of making these ingredients and other delicious products available to our customers. Visit our website today and get inspired.