Warm-up this autumn with our delicious hotpots

If there's one thing we all crave in the colder months it has to be Chinese hotpot!
This delicious, comforting meal is more of an experience than a dish – and the ideal opportunity to have friends and family round for an evening of feasting.
Put 'hotpot with friends' in your diary and shop Sing Kee foods for all your essential hotpot ingredients!

What are Chinese hotpots?
Never heard of hotpots? Let Sing Kee's Chinese supermarket do the honours of introducing you to the world of hotpots.
Hotpot is a meal with a simmering pot of flavoured broth set on a burner in the middle of the table, surrounded by thinly sliced raw ingredients (meats, vegetables, starch, and seafood etc.).
These raw ingredients are then added to the hotpot for quick cooking, collected with wire ladles or chopsticks, and dunked into dipping sauces for extra flavour.
The best part is the meal is easy to personalise with individual dipping sauces. You choose what to dip and where to dip it!

Hot-pot from the comfort of your home with Sing Kee Foods
When your favourite Haidilao Hotpot Restaurant is too far away, you can still dip into flavourful hotpots at home!
All you need is a Chinese supermarket like Sing Kee. At Sing Kee, we have all the hotpot foods you can dream of.

Flavourful broths make tasty hotpots
Let's start with the hotpot soup base. At Sing Kee, we stock various hotpot soup bases to suit whichever flavour profile you are craving.

Choose your favourite from one of these mouth-watering hotpot flavours:
Hot, spicy, and Sichuan
Tomato
Hot & Sour Prawn and Seafood
Broth-flavoured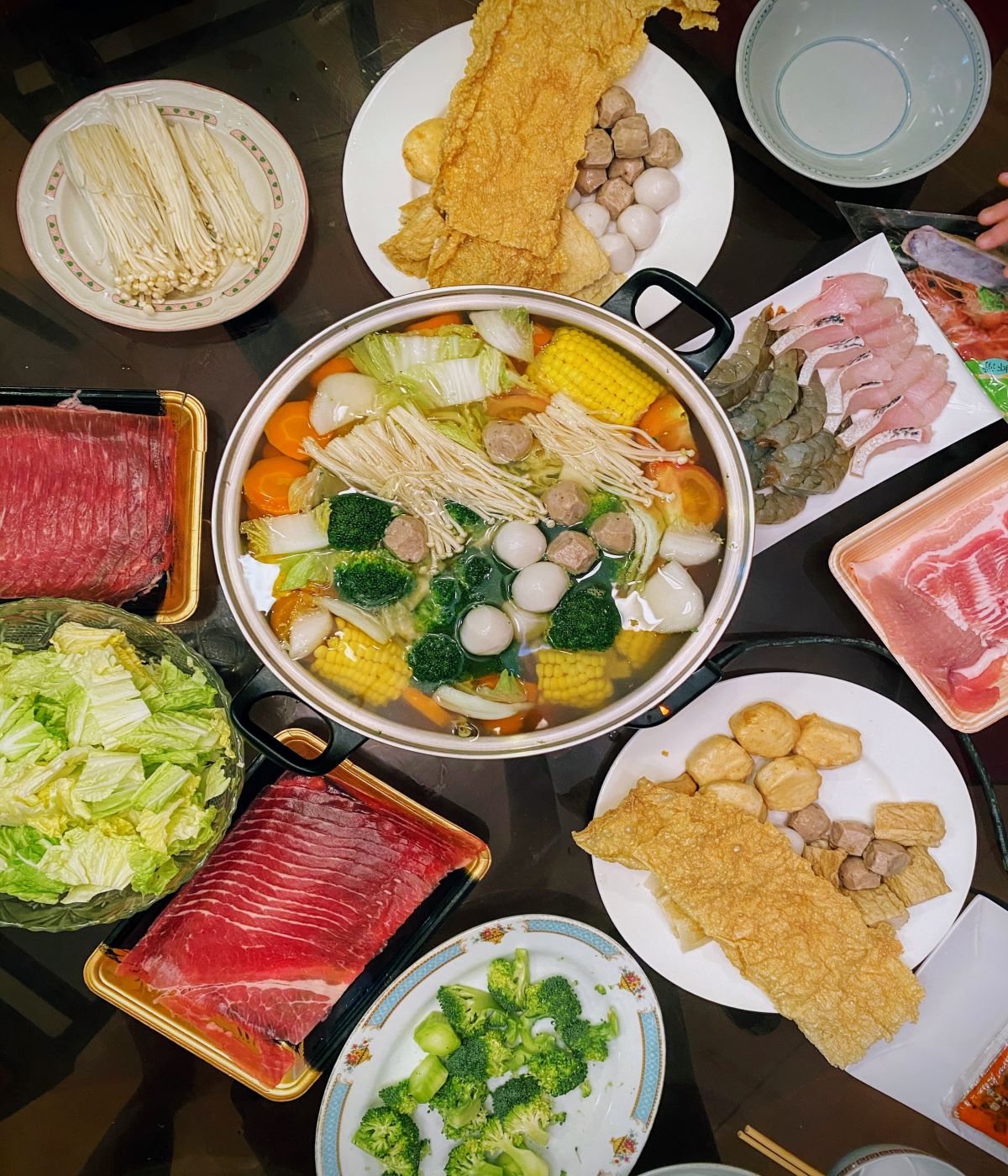 Hotpot dipping foods for a varied meal

Balance is key when prepping your raw ingredients. Aim for 3-5 options from each food category: meat & seafood, vegetables & fungi, tofu & curd, and some starches for some carbs.
Sing Kee foods have various pre-prepared hotpot ingredients to make your hotpot meal prep easier, such as sliced beef, pork and lamb,

fish balls

and various dumplings.
Dip with delight with these dipping sauces for hotpots

This is where you make the meal your own. Dipping sauces aren't shared with other diners, so let your imagination and taste buds run wild.
Sing Kee stocks various dipping sauces and pastes for hotpots, from Haidilao's Hot & Spicy Hotpot Dipping Sauce to Freshasia's Shrimp Paste.

How to cook a hotpot
With Sing Kee's pre-prepared hotpot ingredients, soup bases and dipping sauces, hotpot has never been easier.
Place all the raw ingredients on the table in dishes around the hotpot broth. If you are having a dinner party, let your guests mix their dipping sauces as the broth comes to a boil. Once the hotpot is ready, you can begin adding the ingredients; just make sure the broth is boiling so that any meat items will be properly cooked through.
Be sure to pace yourself as well – there is no need to dunk everything in the broth at once!
Various foods will also require different cooking times. Allow tough greens to soften in the pot for longer while you enjoy quick-to-eat, smaller ingredients.

Ready to hot-pot with Sing Kee foods?
Browse our full selection of hotpot soup bases, seasonings, dipping sauces and pastes here for a meal you won't soon forget!