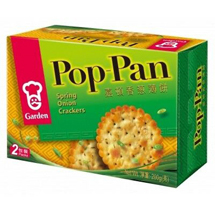 If you travel to China, you will be overwhelmed by a rich variety of hot and cold snacks from street vendors to major supermarkets. The Chinese love their nibbles, whether as a treat between meals or an accompaniment with tea, which reflect the contrasting flavours of the Middle Kingdom, from salty and spicy to sour, sweet and bitter. There is literally something for everyone. So, let's take a look at Chinese snacks and recommend some of our favourites, all available from Sing Kee Foods.
Chinese snacks explained.
The Chinese were the pioneers of Asian snacks. In fact, archaeologists have discovered evidence proving that Chinese chefs created small edible goods baked on hot stones or steamed over hot water as early as the Xia Dynasty (2205-1776 BCE). Only the word 'snack' is new.
The extraordinary range of Chinese snacks available mirrors the different culinary traditions found across China. People living in the south of the country, prefer their nibbles to be sweet or salty, while those in the north prefer something savoury. Chicken feet and pig's ear terrine, as well as other offal delicacies, are typical examples of Chinese beer munch, along with the vegan-friendly stinky tofu. Peanuts and melon seeds are also popular.
Nowadays, snacks are bought ready-made, rather than prepared at home, not just because they take a long time to make, but rather because of the increasing assortment of flavours, tastes and textures to titillate the most discerning of palates.
Our favourites, here, at Sing Kee Foods:
Garden Pop-Pan Sesame Crackers are high on our list of favourite Chinese snacks. Not only will they give you a carb hit when you need it, sesame is a good source of fibre and vitamin B and believed to lower cholesterol and blood pressure, as well as support bone health.
Pop-Pan Crackers are also available in spring onion flavour.
If you fancy a Chinese take on pork scratchings, we recommend Honour Pork Crunch.
For more delicious crunchiness, check out the Calbee Grill-A-Corn range, available in such mouth-watering flavours as lobster, fried garlic and barbecue.
We are also big fans of the Oishi brand (which are in fact Filipino, but are extremely popular with Chinese), especially their prawn crackers, in original and spicy flavours, as well as their pea snack crisps and sweet corn pops .
If you are following a plant-based diet, we highly recommend the incredibly moorish HBS Spicy Dried Beancurd, the perfect companion for a cold Tsingtao.
For those with a sweet tooth, then look no further than Hsu Pineapple Flavour Cookies. These cookies celebrate a favourite bakery delicacy from Taiwan. Other flavours include mango, strawberry and sesame.
Find you perfect snack at Sing Kee Foods
We have over 20 years' experience offering our customers the best food and drink from across the Far East. So, whatever nibbles you are looking for, we are confident you will be impressed by our selection of Asian snacks. Check out our website today for more information. Your taste buds will thank you later.