Thailand is known for its delicious street food. None is more famous than pad thai, a stir-fried rice noodle concoction which can easily be regarded as the country's national dish. Many visitors to Thailand soon develop a pad thai 'obsession', going to great lengths to satisfy it when they return home. No wonder that pad thai was ranked in fifth place by respondents to a CNN poll of the 'world's 50 most delicious foods'. It was even celebrated in a Google Doodle in 2017. Let's look at its origins, how it's made and our suggestions for a vegan pad thai recipe.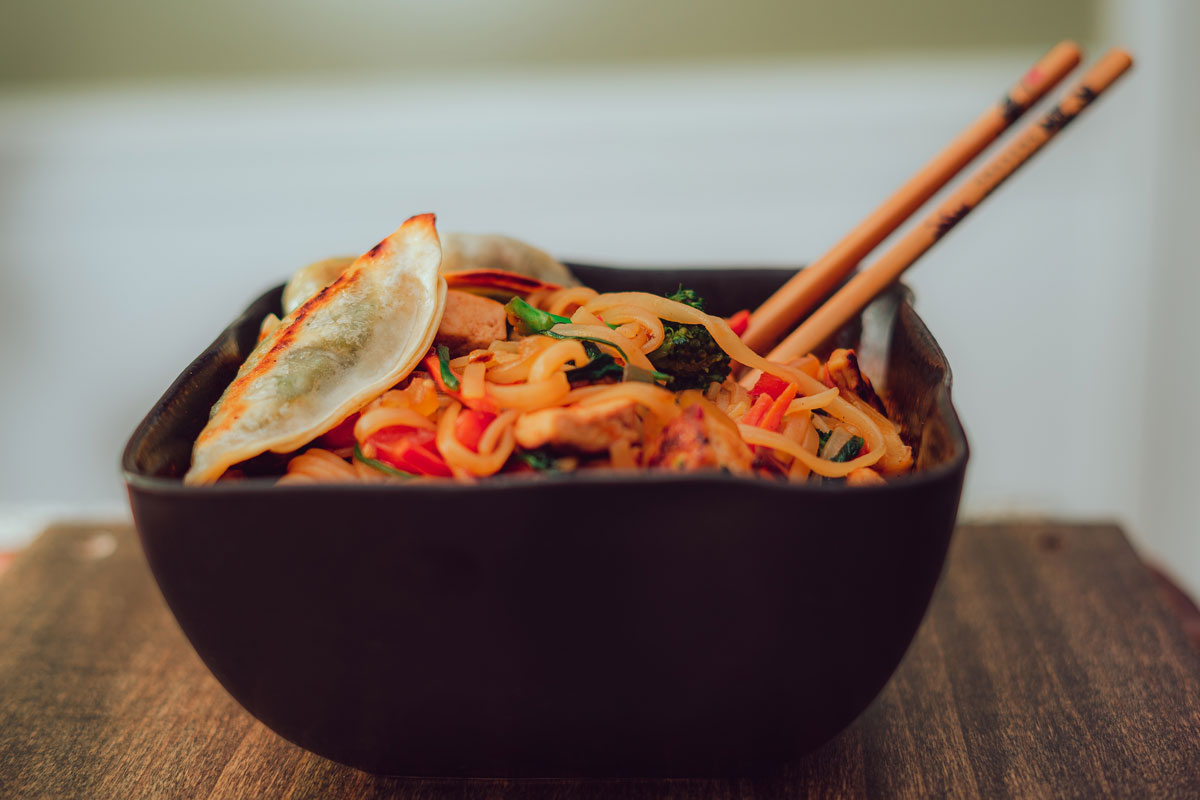 Origins of pad thai
While pad thai is easily the most well-known dish from Thailand, as with many stir-fry noodle recipes, its origins can be found in China. This is even acknowledged by the people of Thailand themselves, who refer to it in their own country as a Chinese noodle dish in a Thai style. It's also a fairly recent addition to the country, having been popularised and some say invented by former Thai prime minister, Field Marshal Plaek Phibunsongkhram, in the 1940s, both in an attempt to foster a sense of national unity and to deal with rice shortages during World War II.
How is traditional pad thai made?
The obvious place to start is selecting which dried rice noodles to use. We recommend Wai Wai Kway Teow rice noodles, which are available from Sing Kee Foods. If you want to follow the traditional method of making pad thai, you should stir-fry them with eggs and chopped firm tofu, together with some tamarind pulp, fish sauce, dried shrimp, garlic or shallots, red chili pepper and palm sugar. Animal protein is often added in the form of chicken, pork or seafood. When it's ready to eat, serve with lime wedges and chopped roasted peanuts.
Vegan pad thai recipe ideas
'Veganising' this dish is really simple. First of all, remove all animal products from the traditional recipe and replace them with vegan substitutes. The good news is you can now easily purchase vegan alternatives to fish sauce, while another vegan product, tofu scramble, can be used instead of eggs. You should also max out on your favourite stir-fry veggies, such as bean sprouts, garlic chives and kimchi. For something different, why not try Surasang seasoned seaweed?
Are your creative juices flowing?
Have we inspired you to make your own Thai food masterpiece at home? If so, then look no further than Sing Kee Foods for all the ingredients you could possibly need. For over 20 years, we have been offering our customers an amazing range of high-quality but affordable food and drink from across the Far East. Better still, many of our products are suitable for both vegetarians and vegans as well as other dietary requirements. Check out our Facebook and YouTube pages for more recipe ideas.