The vegan food revolution has inspired us to create delicious plant-based recipes, using many of the ingredients available from Sing Kee Foods. As many of our customers know, we love sharing these recipes. This time we are going to tell you how to make one of our summer favourites: sticky ginger tofu served with a sweet and sour slaw.
What you need
Most of the ingredients are available from Sing Kee Foods, click here to add them to the basket.
How to cook
Cooking time: 30 minutes
Servings: Main for 2 people or starter for up to 4 people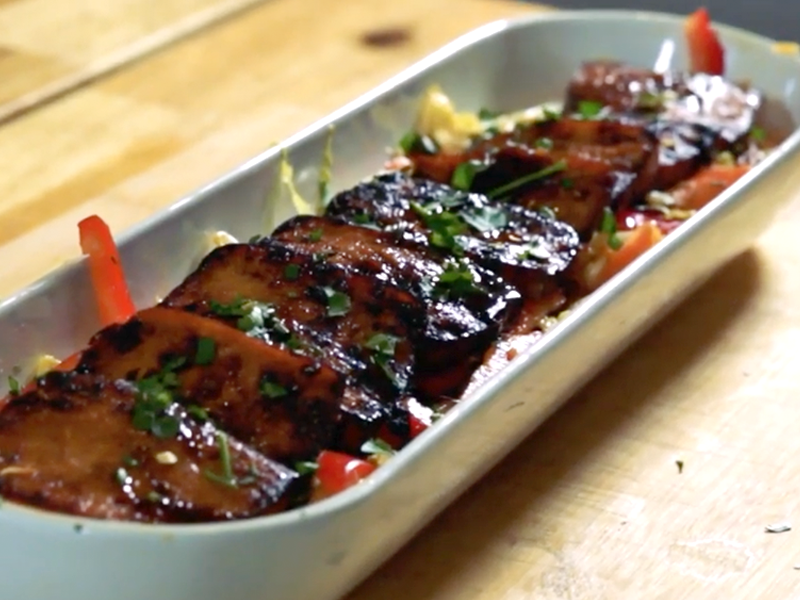 To prepare the marinade, mix 3 tablespoons of brown sugar, 1 tablespoon each of minced ginger and minced garlic, 2 tablespoons of soy sauce and the juice of 1 freshly squeezed lime in a bowl. Next, microwave the marinade for 30 seconds, then stir until it achieves a smooth but runny consistency.
Take 1 drained pack of pressed tofu and slice into reasonably sized and thick squares or strips. Place the tofu on a serving dish without layering and coat in the marinade. Set aside for the time being.
Trim a whole Chinese leaf and shred at least one half of it, then set side. Next, slice a whole red pepper and chop 3 spring onions crossways, then set aside as well, along with 2 carrots sliced into ribbons and a handful of bean sprouts.
To make the sweet and sour slaw dressing, mix 1 tablespoon each of minced ginger, minced garlic, rice wine vinegar, vegetable oil and sesame oil, together with more freshly squeezed lime juice, 3 tablespoons of maple syrup and 2 tablespoons of soy sauce.
Toss the vegetables in the slaw dressing and place on a serving dish.
Next, heat 2 tablespoons of cooking oil and fry the tofu until brown on both sides. This should take you approximately 10 minutes.
When ready, place the tofu on top of the sweet and sour slaw, garnish with a sprinkling of finely chopped coriander and enjoy.
Check out our YouTube channel for some more delicious recipe ideas.
Ingredients to get your creative juices flowing
Here, at Sing Kee Foods, we are proud to offer our customers an amazing range of ingredients from across the Far East, many of which are vegan-friendly. With more than 20 years of experience as one of the UK's largest Oriental supermarket networks, we certainly have the know-how to help you transform a meal into a banquet. Check out our website today and prepare to be inspired.