The increasing demand for vegan food has been one of the biggest culinary phenomena in recent years. For health as well as ethical reasons, customers are increasingly choosing plant-based options as part of their diet. While the range of processed vegan dishes hitting the supermarket shelves is growing at a rapid pace, our customers often tell us they come with a hefty price tag or point out that they are not especially healthy.
Here, at Sing Kee Foods, we believe that cooking delicious vegan dishes, using fresh ingredients, should be affordable to everyone. Check out our recipe below for a Chinese classic with a vegan twist.
What you need
For garnish: fresh coriander, sesame seeds, fresh lime
Ingredients are available from Sing Kee Foods – check out this link to place them all in your cart. Alternatively, you can browse them individually at the bottom of this page.
How to cook
Cooking time: 10 minutes
Servings: 6 x duck pancakes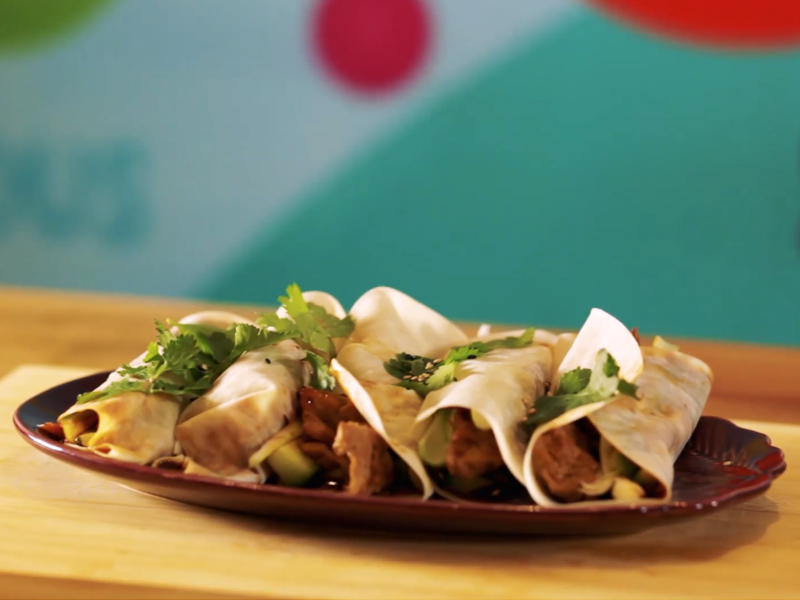 Open a tin of mock duck and chop roughly into small pieces.
Add two tablespoons of cooking oil, one tablespoon of Kikkoman Naturally Brewed Soy Sauce and the chopped mock duck to a frying pan and fry for around four minutes. Remove the mock duck from the frying pan and set aside.
Take one third to a half of a cucumber (removing the blossom end, if necessary) and cut in half lengthways. Then slice lengthways again, so that you have a mix of slices with and without skin.
Take six spring onions and remove the bulbs and the green tops. Slice finely lengthways.
Take six Chinese-style pancakes and microwave for three seconds.
Lay each pancake on a flat surface. Take a teaspoon (or more, if desired) of Peking duck sauce and coat the top of the pancake. Add the sliced cucumber and spring onion, followed by some of the mock duck. Then roll up the pancake to resemble the Chinese classic.
Place all rolled-up pancakes on a serving dish, then garnish with fresh coriander and sesame seeds. Squeeze a fresh lime over the pancakes and enjoy.
Check out our Facebook page for some more delicious recipe ideas.
We are Yorkshire's essential Oriental supermarket network
Sing Kee Foods is a family-run business with over 30 years of experience as one of the UK's leading Oriental supermarket networks. We have an amazing range of products from across the Far East, with plenty of options suitable for vegetarian, vegan and gluten-free diets, as well as customers with other dietary requirements. You can be confident that shopping with us will make every meal a special occasion.