From sushi and matcha to J-horror and manga, so many products from the Land of the Rising Sun have achieved cult status all across the Western world. This is particularly the case with the Meiji Hello Panda biscuit range, which has been manufactured in Japan since the 1970s. As Sing Kee Foods is one of the UK stockists of Oriental sweets, including these must-have biscuits, we thought it was time to explain their history, significance and available flavours.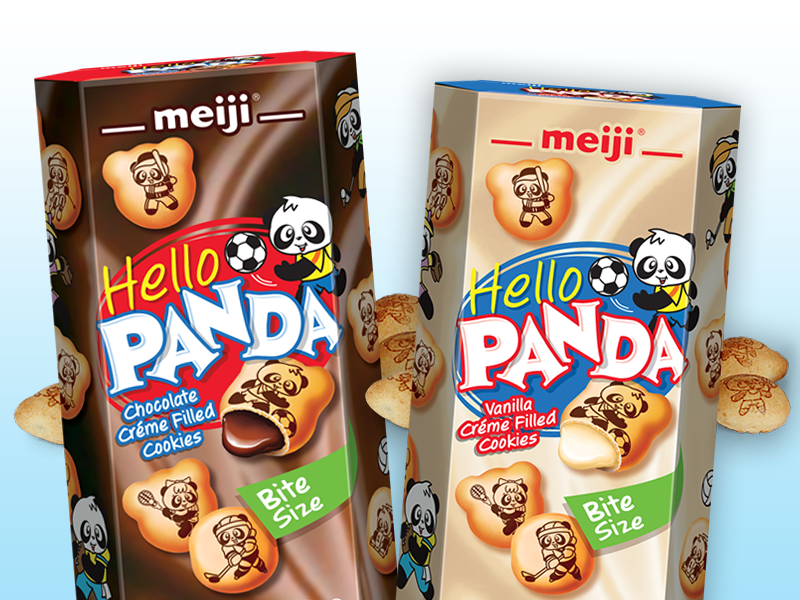 Meiji Hello Panda explained
Hello Panda is a brand of Japanese biscuit, manufactured by Meiji Seika, which was founded in Japan in 1916. The company has since been recognised for the knowledge and skills of its talented workforce in areas such as confectionery, dairy, baby food, infant formula, sports nutrition, health and beauty items, and medicine.
First released in Japan during the summer of 1979, each biscuit comprises a small hollow shortbread layer, with various sweet fillings. As the name suggests, on each biscuit, you will find printed a cartoon-style depiction of a giant panda participating in a physical activity, such as fencing and archery.
The biscuit range is currently exported to the most European countries including the UK, as well as to North America, the Middle East and Australia.
Why does Hello Panda enjoy cult status?
First of all, what's not to like about the idea of biscuits featuring pandas in cute poses? The fillings for Hello Panda biscuits come in many different tastes including chocolate, strawberry, milk cream, and matcha green tea.
Each biscuit features an image of a panda taking part in some kind of activity, such as archery, badminton, baseball, basketball, curling, cycling, fencing, figure skating, football, golf, high jumping, hockey, rugby, sailing, skiing, snowboarding, surfing, swimming, tennis and volleyball.
In 2014, to celebrate its 40th anniversary, Meiji launched the 'Find the Golden Panda' app-based contest. While the lucky winners of this game didn't receive a real panda, they were awarded with a generous cash prize.
Hello Panda biscuits are perfect for creating a mini ice cream sandwich. They can also be dipped in yogurt or melted chocolate, or even used to top a birthday cake. If your little one is an animal lover, why not include these fun-filled treats in their lunchbox?
We are your Oriental food experts
Here, at Sing Kee Foods, we are big fans of Hello Panda. We have made sure we only stock our favourite fillings, including the classic version filled with chocolate, along with strawberry, milk and matcha fillings.
As a family-run business with over two decades of experience selling an unparalleled range of food and drink from across the Far East, we are recognised as one of the largest Oriental supermarket networks in the UK. We are committed to offering our increasing customer base with the widest choice, the highest quality and the best possible value. Please check out our website today for our full range of Hello Panda products, as well as other fantastic meal and snacking ideas.