From matcha lattes to wasabi peanuts, popular drinks and snacks from the Land of the Rising Sun are increasingly finding fans all across the West. Mochi is the latest Japanese food product which is enticing Western taste buds, with its combination of understated sticky sweetness and known health benefits. In this blog, we talk about this confection, what it is and how it originated, as well as introduce some of our favourite varieties, available on our website and in-store.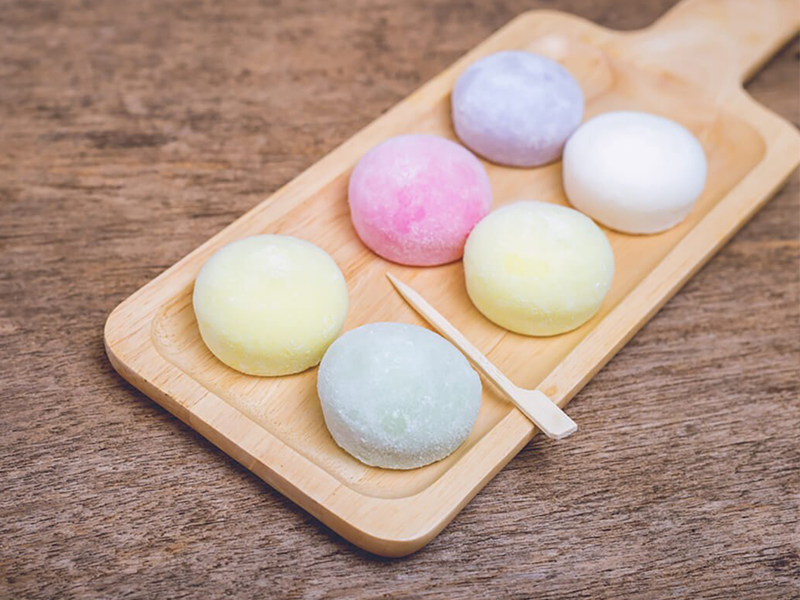 What is mochi?
Mochi is a cake prepared from sweet rice flour, known as mochiko, which is mixed with water. The resulting paste is then pounded and moulded into spheres or cubes. Known for being chewy and sticky, it often contains a delicious sweet filling.
Mochi has a rich history. Indeed, it has been a central component of New Year celebrations in Japan since the eighth century. Originally consumed by the Japanese emperor and aristocracy, along with being celebrated in Shinto rituals as the "food of the goods", it is also regarded as a symbol of good fortune and happy marriages.
As the nutritional content of a matchbox-sized piece is comparable to that of a bowl of rice, Japanese farmers were known to eat it during the winter months to increase their stamina, while samurai warriors took it on their campaigns, as it was easy to carry and prepare.
A healthy and nutritious snack
As it is made from rice flour, mochi is very low in saturated fat and cholesterol, as well as being gluten-free. It is also a good source of protein, vitamin B5, copper, magnesium, manganese, potassium and selenium. As it is highly nutritious but easy to digest, it is ideal for people who are in weak health.
In addition, it is recommended for health problems such as anaemia, an imbalance in blood sugar, low energy and low weight. Pregnant women or lactating mums are also encouraged to eat this confection because it promotes breast milk production.
Yorkshire's leading Oriental supermarket and online store
A family-run business, we at Sing Kee Foods are proud to offer our customers an unparalleled range of food and drink from the Far East. In our 20-year history, we have grown into one of the largest Oriental supermarket networks in the UK, with a commitment to the widest choice, the highest quality and the best possible value.
Whether you are celebrating a special event or looking for something special for dinner, we are confident that you will find everything you need – and a lot more – from us.