Twenty years ago, a famous American beer company launched a successful marketing campaign known as "Wassup? Wasabi!", which became a pop culture phenomenon around the world. At that time, in the UK, only a few aficionados of Japanese food were familiar with this potent green ingredient. Nowadays, it is a popular flavouring for snacks. In particular, wasabi peas are increasingly replacing potato crisps and salted nuts as the go-to nibbles with drinks. In this blog, we explain the origins of wasabi peas, their possible health benefits and how they can add taste and crunch to your mealtime.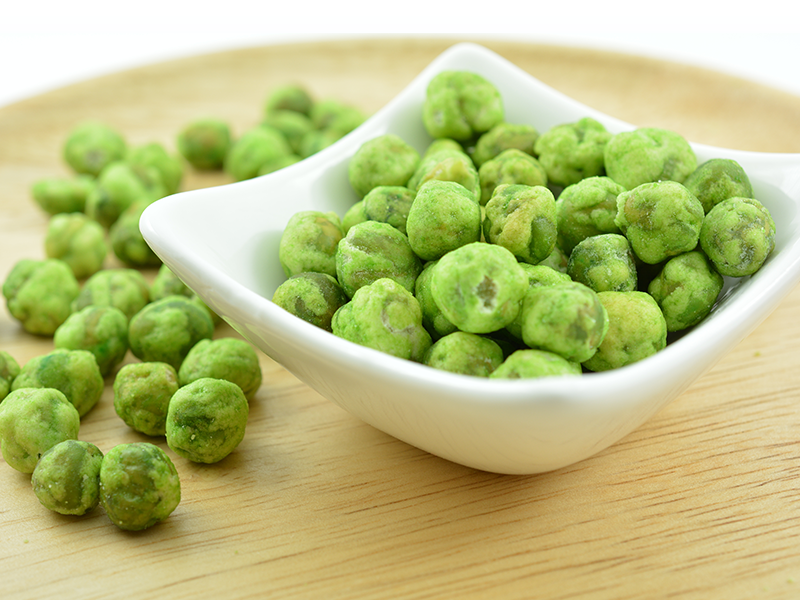 What is wasabi?
Real wasabi is the pungent stem of the Wasabia Japonica plant which originated in Japan in the country's misty rocky riverbeds, where it still grows today, especially in the Japanese Shizuoka Prefecture as well as the Azumino Plains of the Nagano Prefecture. It is a type of horseradish grown in Japan, whose root is harvested and turned into a paste or powder to flavour food.
The paste is used as a fiery condiment, mixed with soy sauce and pickled ginger, for sushi, while the powder is often used as an ingredient or coating for crunchy snacks such as roasted or fried peas. You can even find wasabi-flavoured ice cream.
As wasabi stimulates your nose more than your tongue, its taste is similar to that of hot mustard or horseradish rather than chili.
A healthier option
As many of our customers tell us, wasabi peas go perfectly with beer. But they are a healthy option compared to potato crisps, which are high in fat. You can enjoy about 4 g of protein per serving, which will support the normal functioning of your cells, tissues and muscles. You will also receive a good amount of iron, which plays a critical role in the formation of red blood cells, essential for moving oxygen around your body. In addition, wasabi peas are a good source of dietary fibre, which helps to prevent constipation and reduce the risk of health conditions such as heart disease and type 2 diabetes.
More than a snack
Adding a handful of wasabi peas to your ingredients will not only add crunch, but also boost your intake of essential nutrients. Why not include them in your favourite stir-fry recipe or crush them with wholewheat breadcrumbs to make a flavoursome coating for chicken or fish? Wasabi peas are also ideal for stirring into your salad, pasta or soup to enhance flavour as well as texture.
We are your Oriental food experts
Sing Kee Foods is a family-run business with over two decades of experience selling an unparalleled range of food and drink from across the Far East to more and more satisfied customers. We are now recognised as one of the largest Oriental supermarket networks in the UK, with a commitment to the widest choice, the highest quality and the best possible value. Check out our website today for some great meal and snacking ideas, including Yutaka Wasabi Peas.